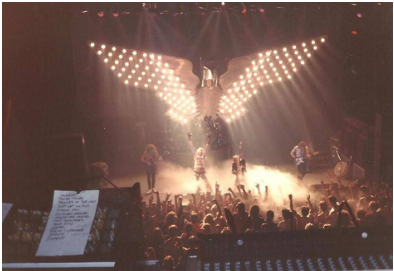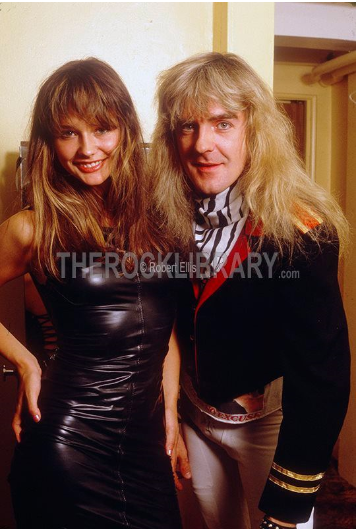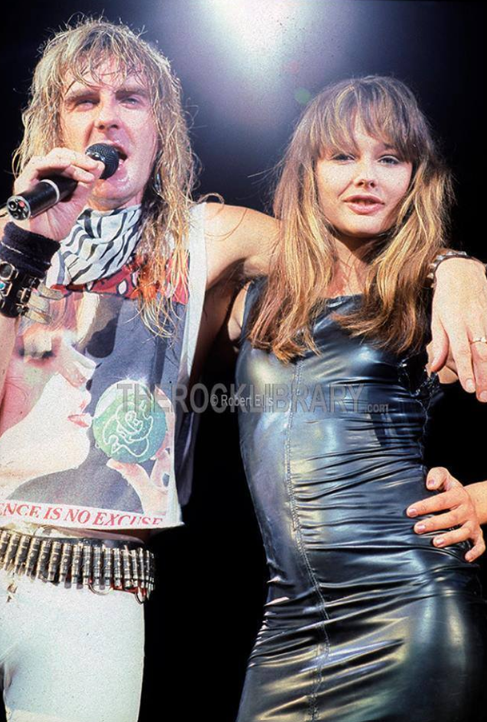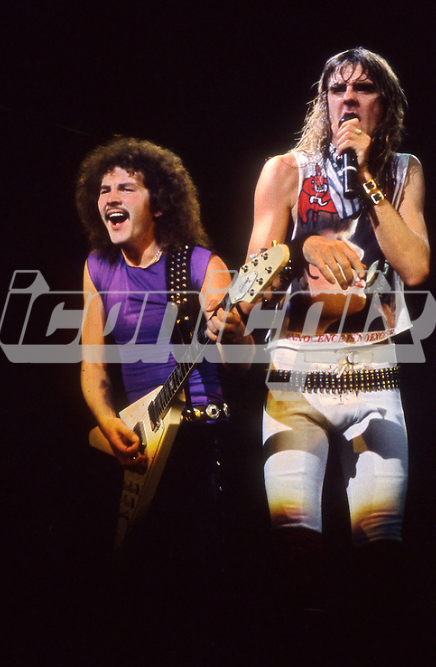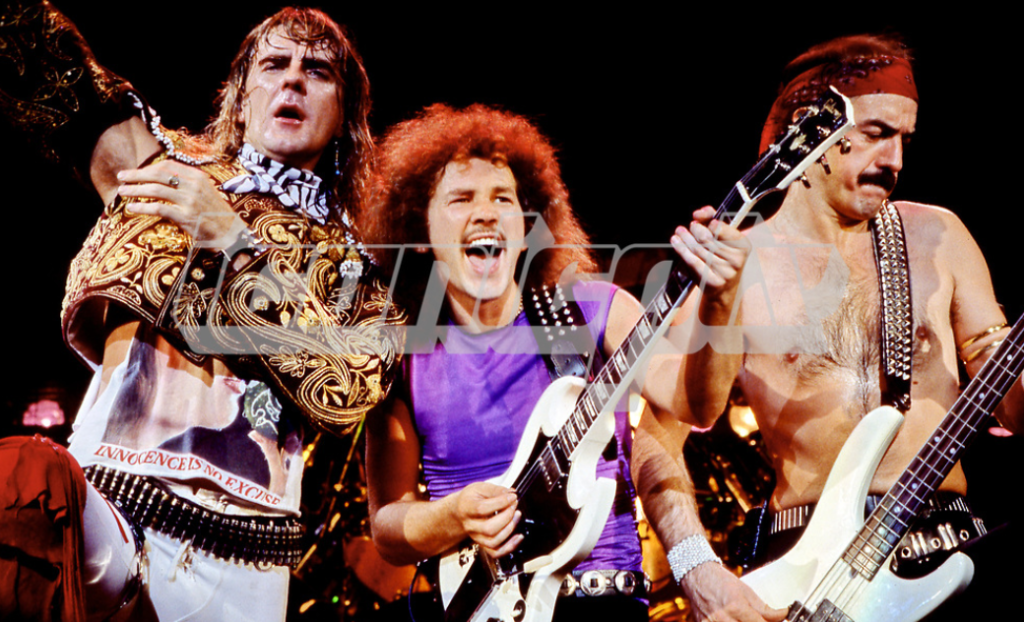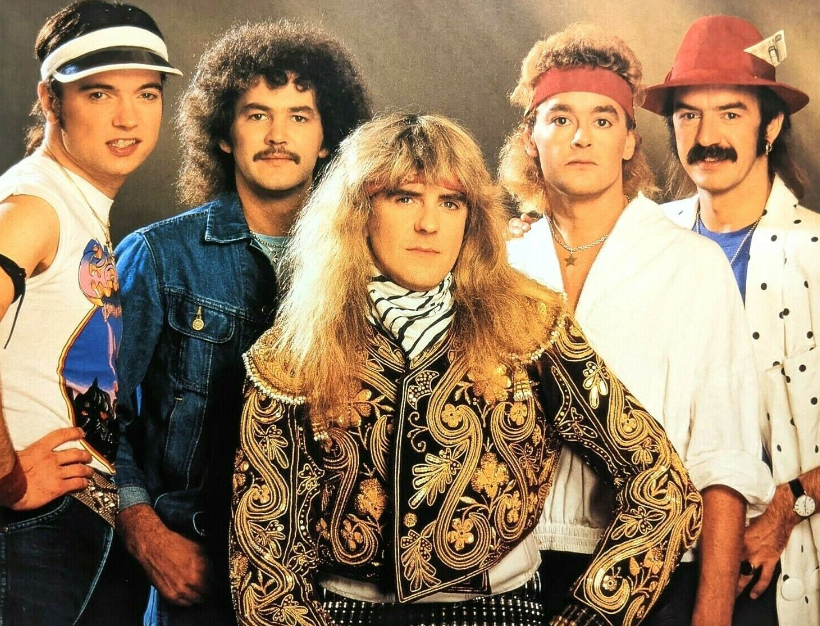 1985, June: Making of video's Back on the Streets and Rockin Again in Spain
As part of the planned 'Live innocence' video release (Madrid show), there were 2 promotion video's included. These video's were filmed in The Tabernas Desert (Spanish wild west scenery) were the Fort Bravo film studio and theme park are located. the production time at the location was 2-3 days. Later this footage was mixed with live registrations of a Saxon concert.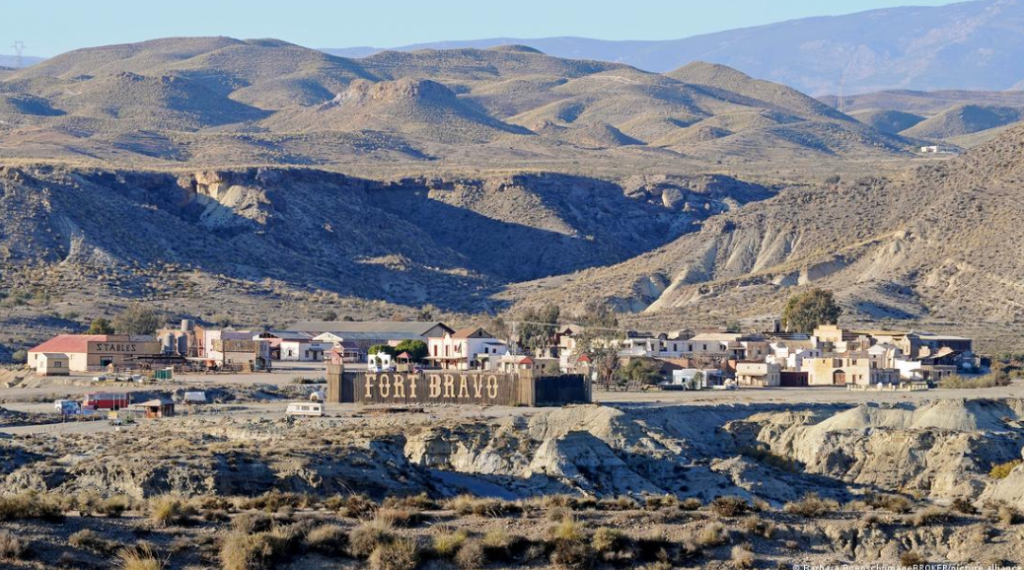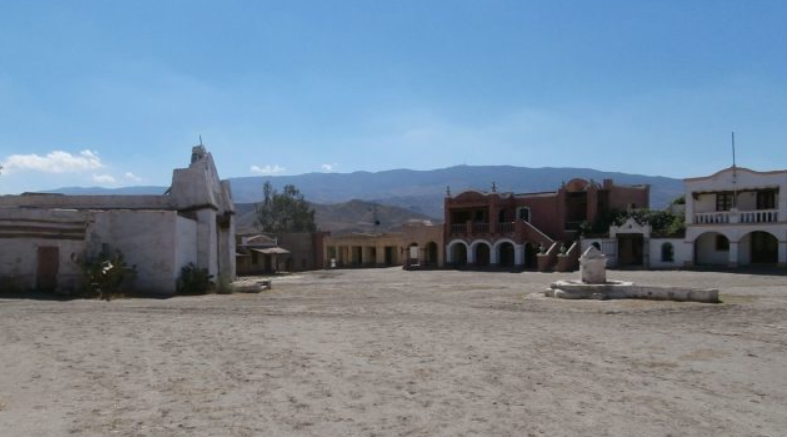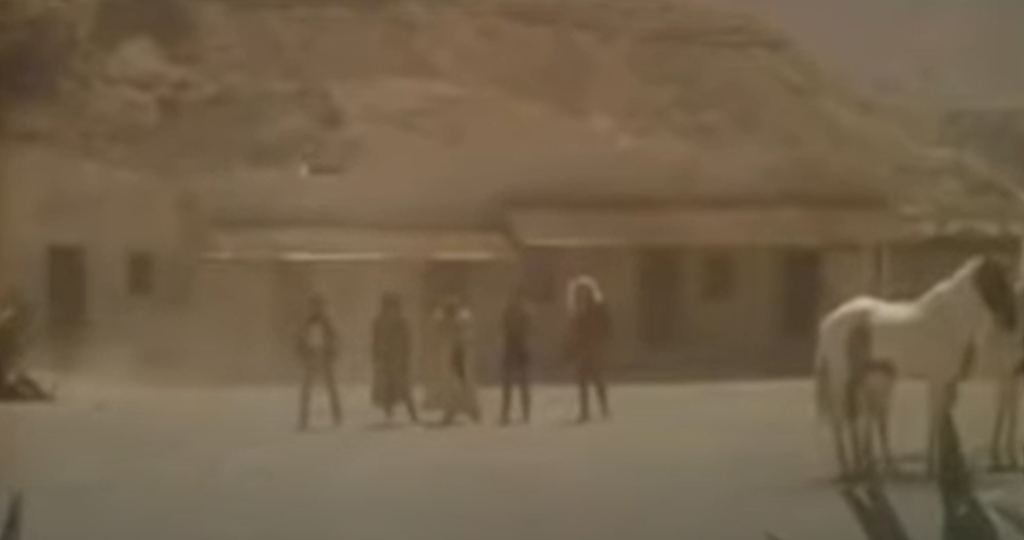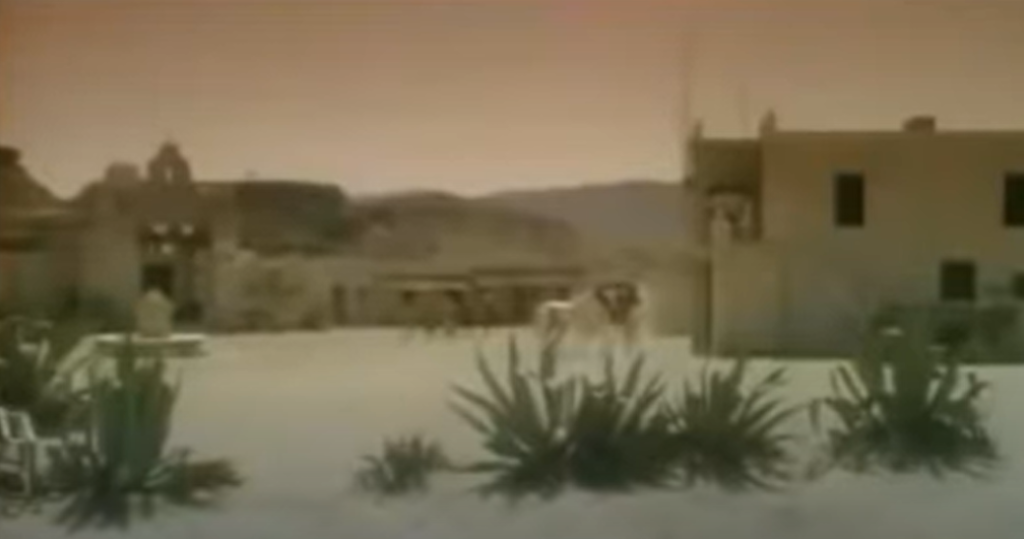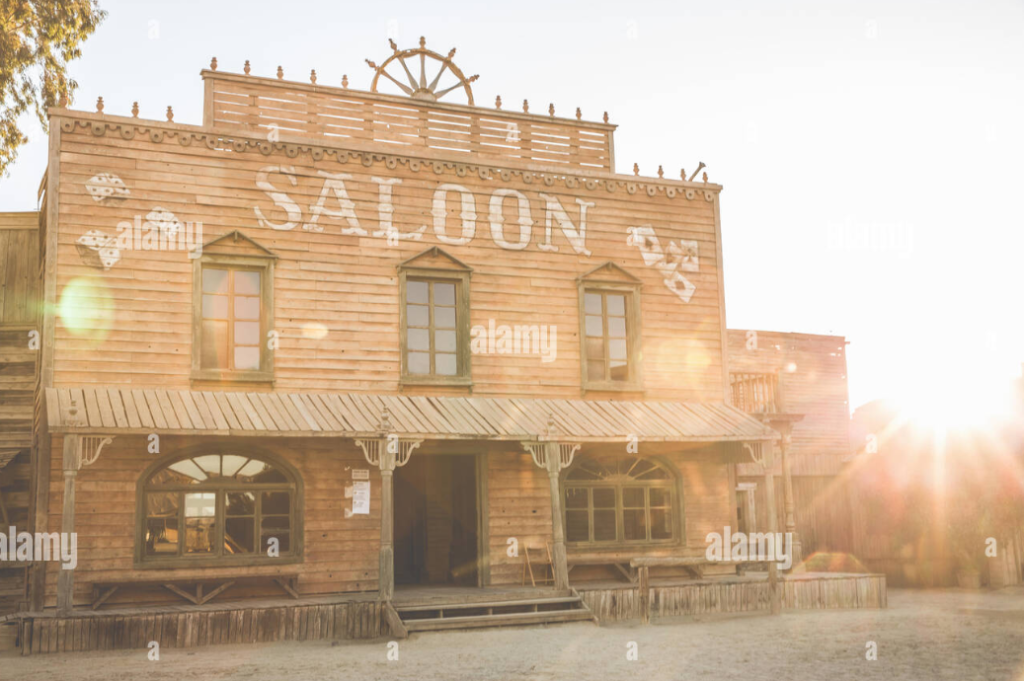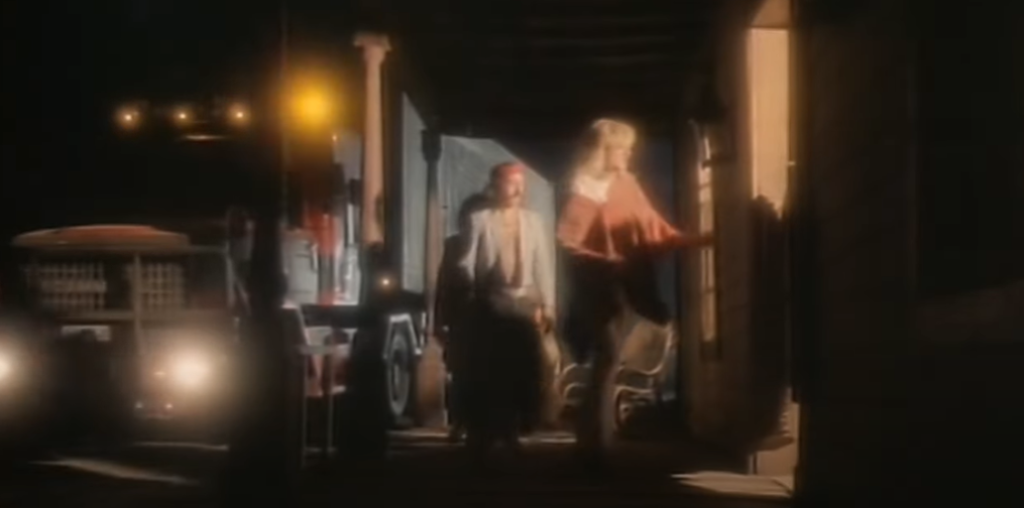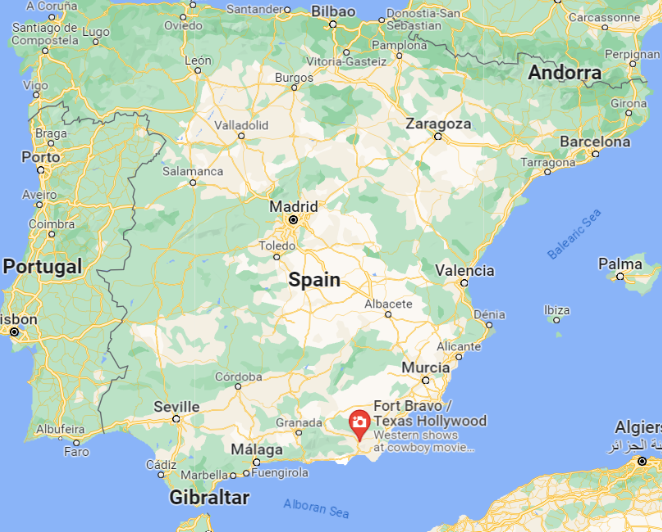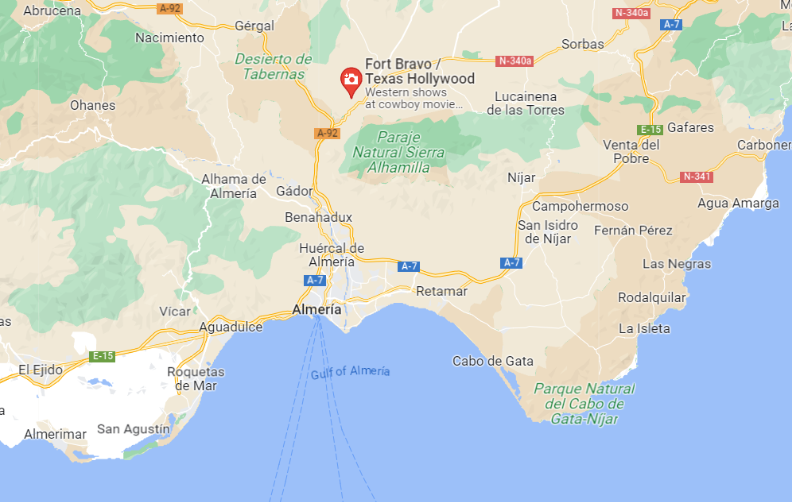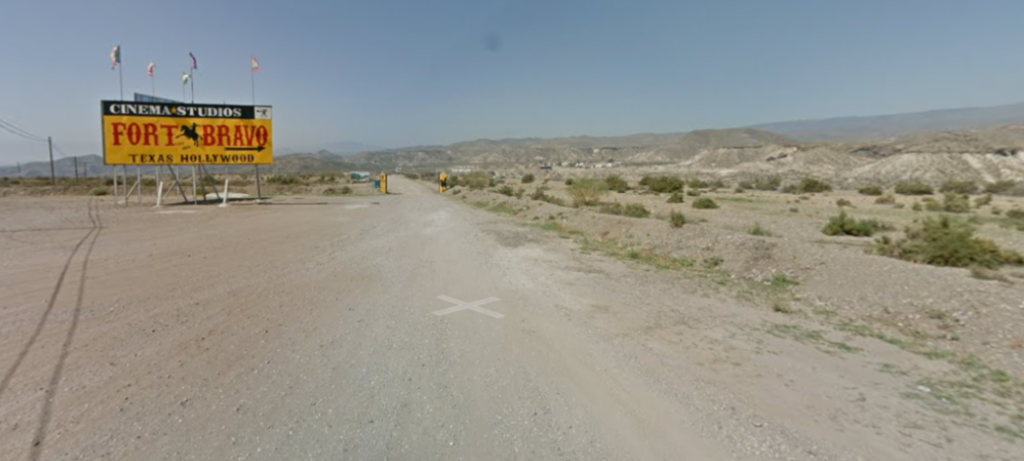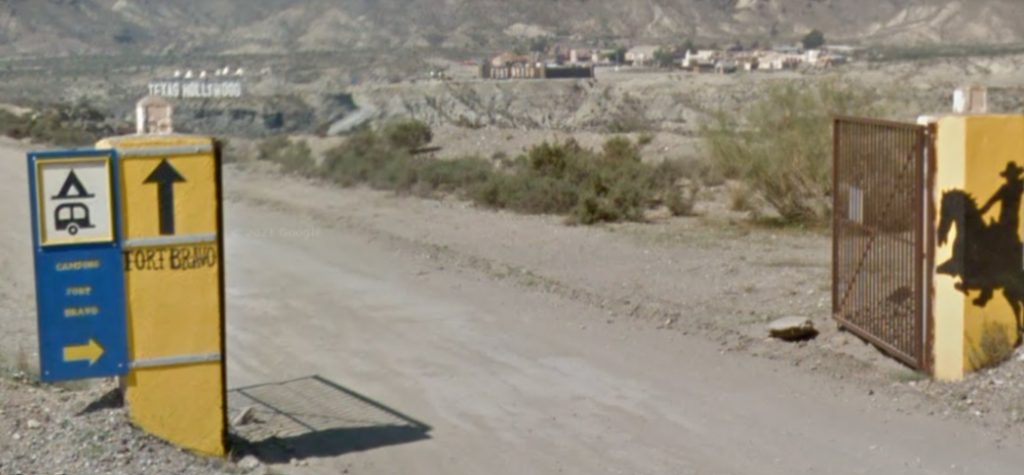 Promotion video's filmed at Fort bravo, Spain
1985, Jun 18: Nueva Pabellon Club Juventud, Badalona Spain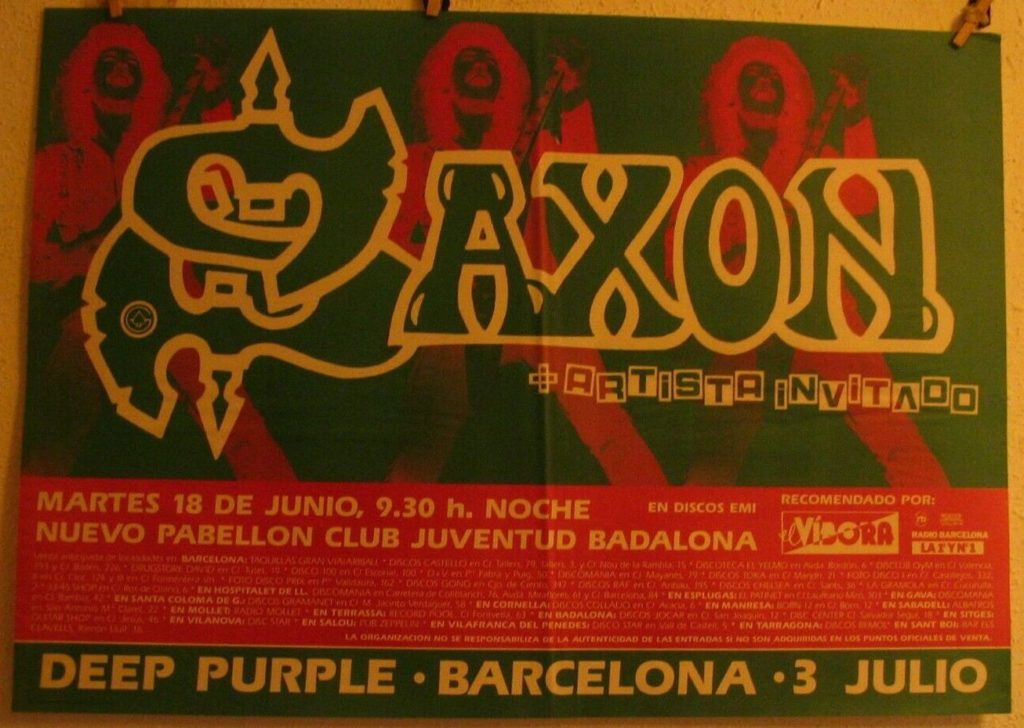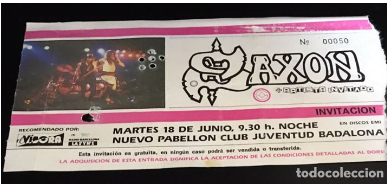 Set list
Unknown, set list wanted
Venue
Pavelló Club Joventut Badalona is an indoor arena located and was built in 1972, it hosted the boxing events for the 1992 Summer Olympics. The arena has a capacity of 3,300 people.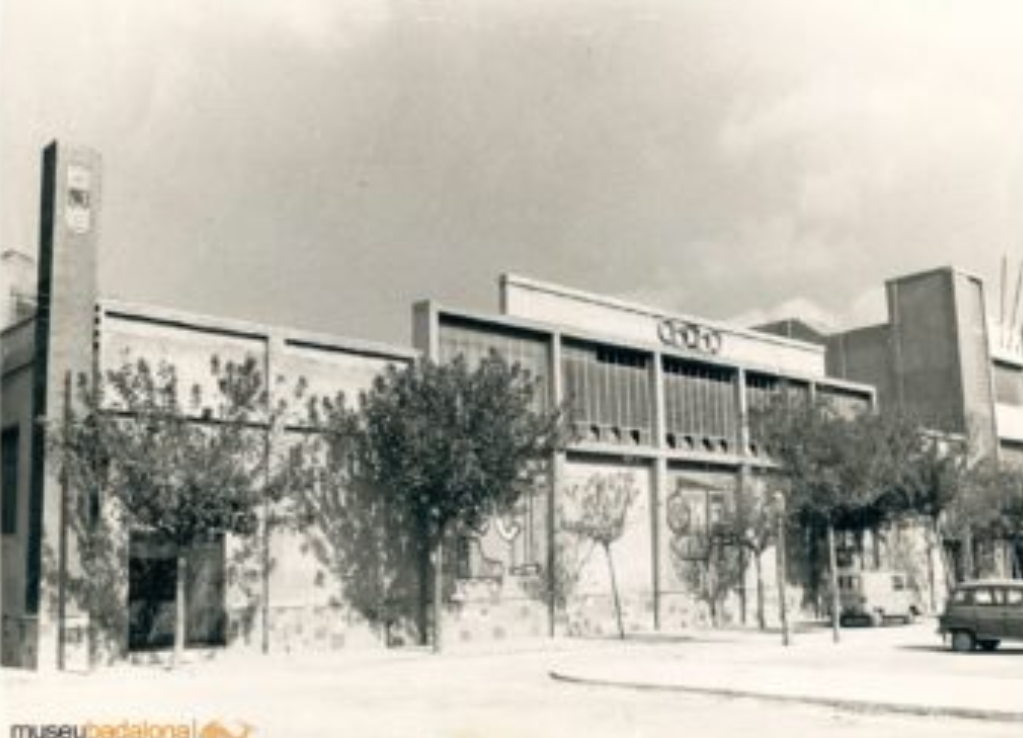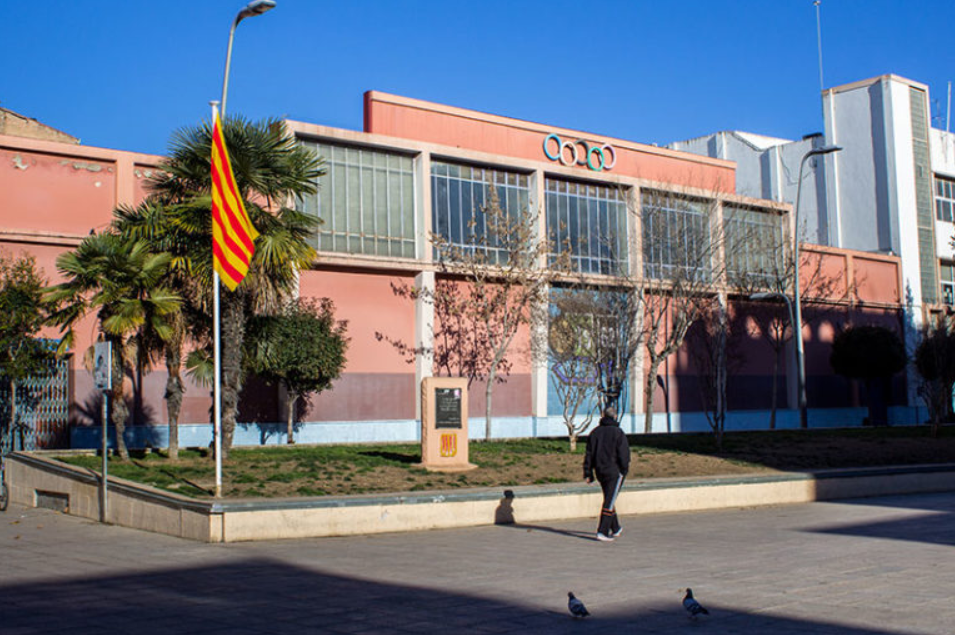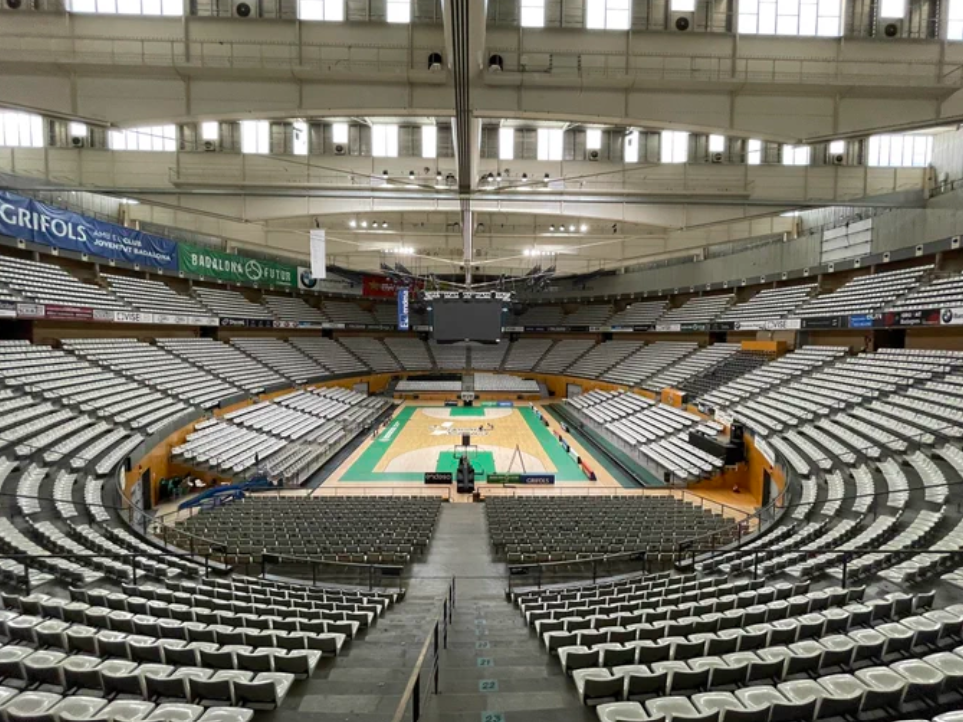 1985, Jun 20: Pabellón de la Ciudad Deportiva del Real Madrid, Madrid Spain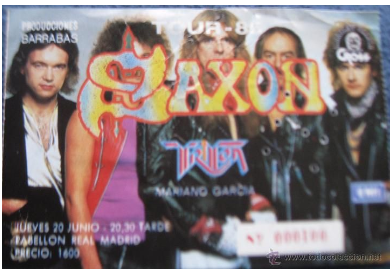 Set list
Back on the Streets
Dallas 1 PM
Devil Rides Out
Everybody Up
A Little Bit of What You Fancy
Broken Heroes
Play It Loud
Gonna Shout
Crusader
Heavy Metal Thunder / Stand Up and Be Counted / Taking Your Chances / Warrior / Heavy Metal Thunder
Recordings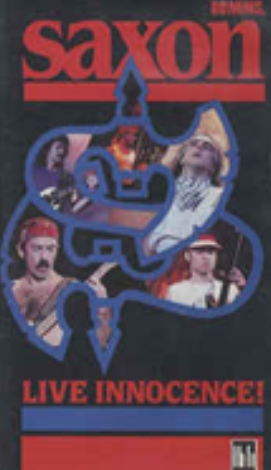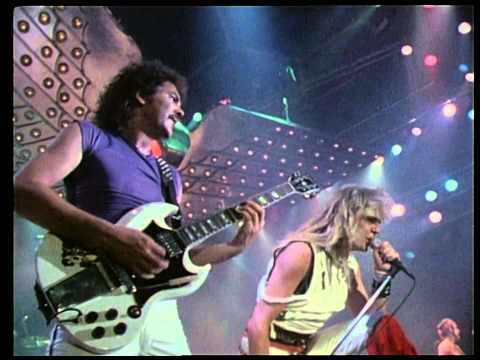 Venue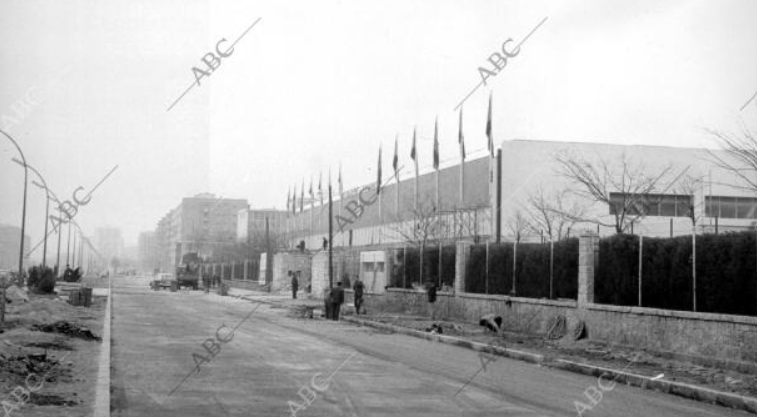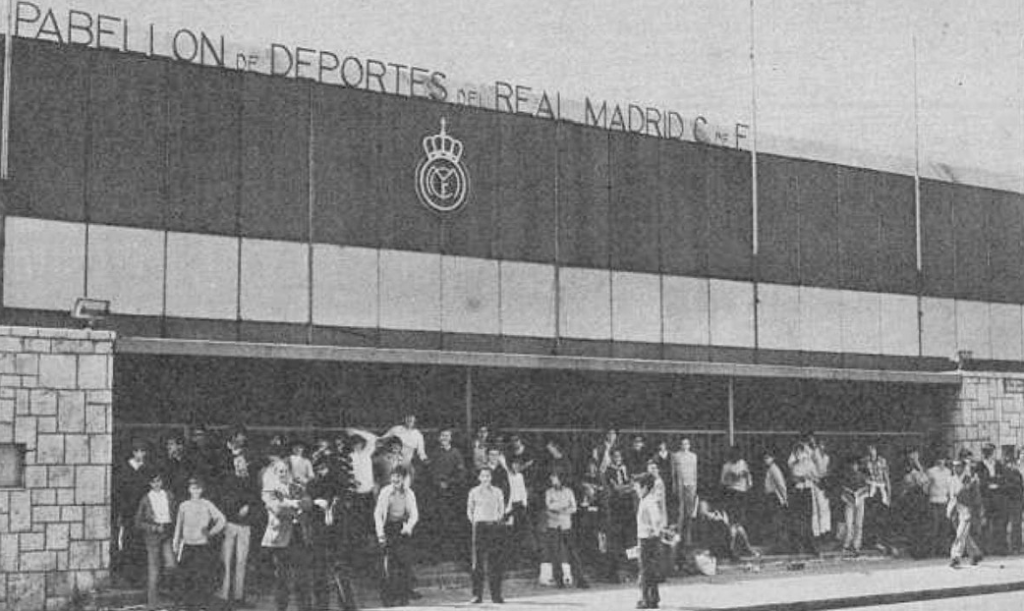 1985, Jun 21: Palacio de los Deportes, Zaragoza, Spain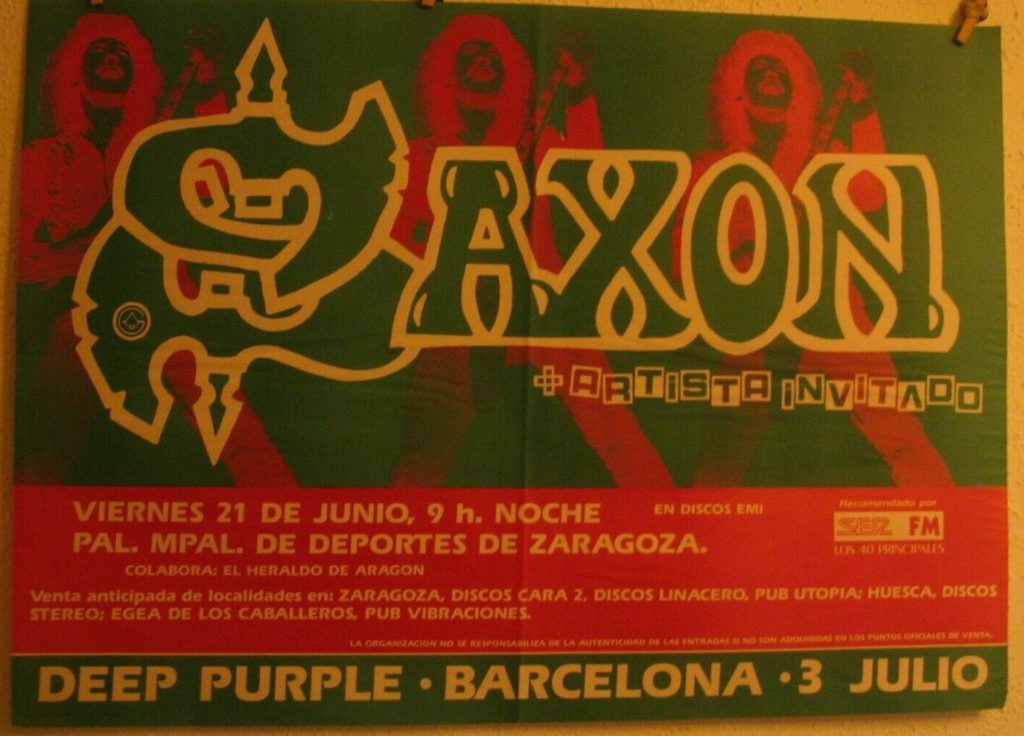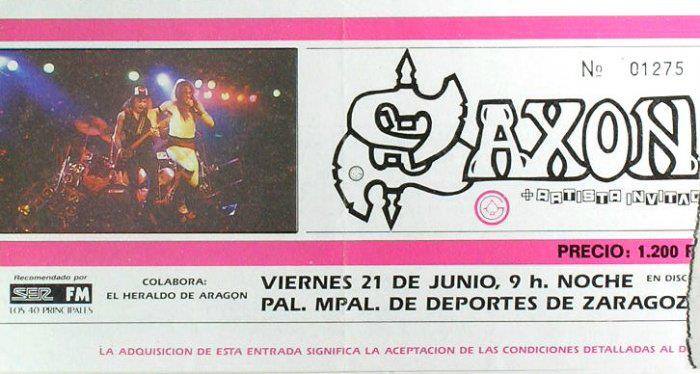 Set list
Unknown, set list wanted
Venue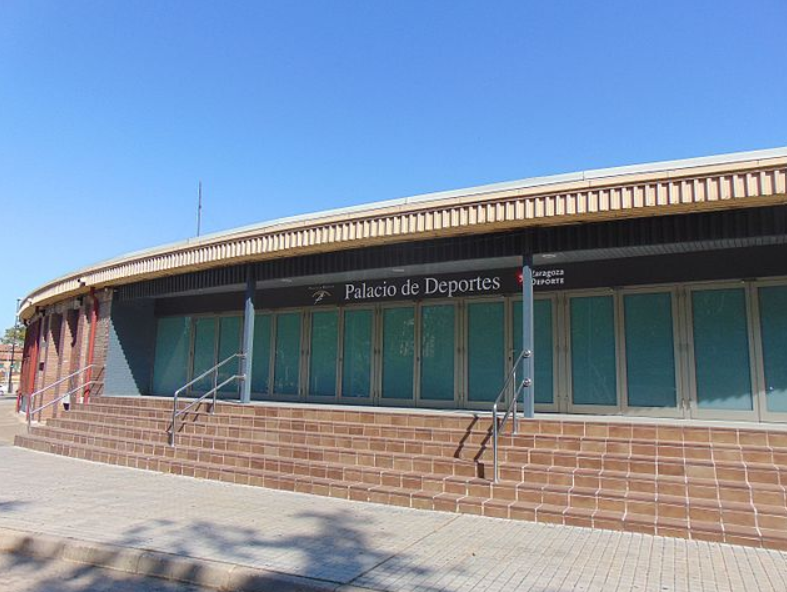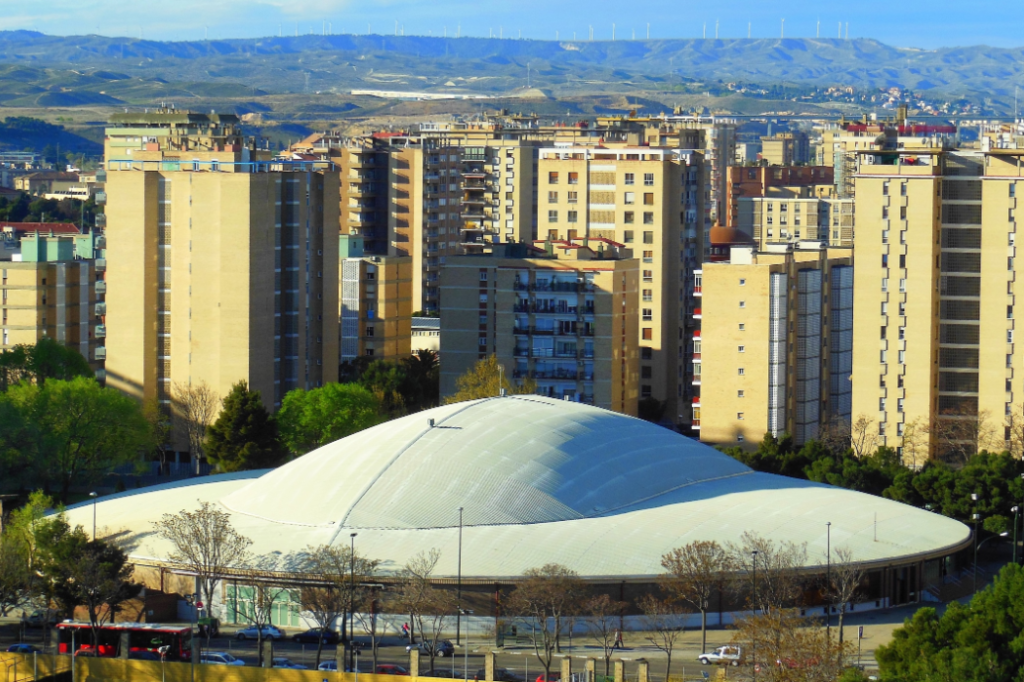 1985, Jun 22: Velódromo de Anoeta, San Sebastian, Spain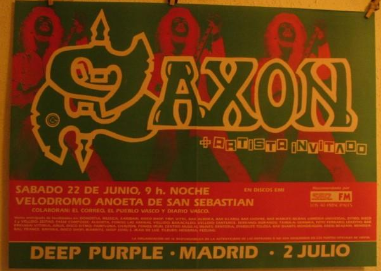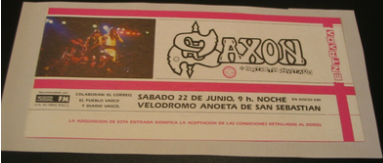 Set list
Unknown, set list wanted
Venue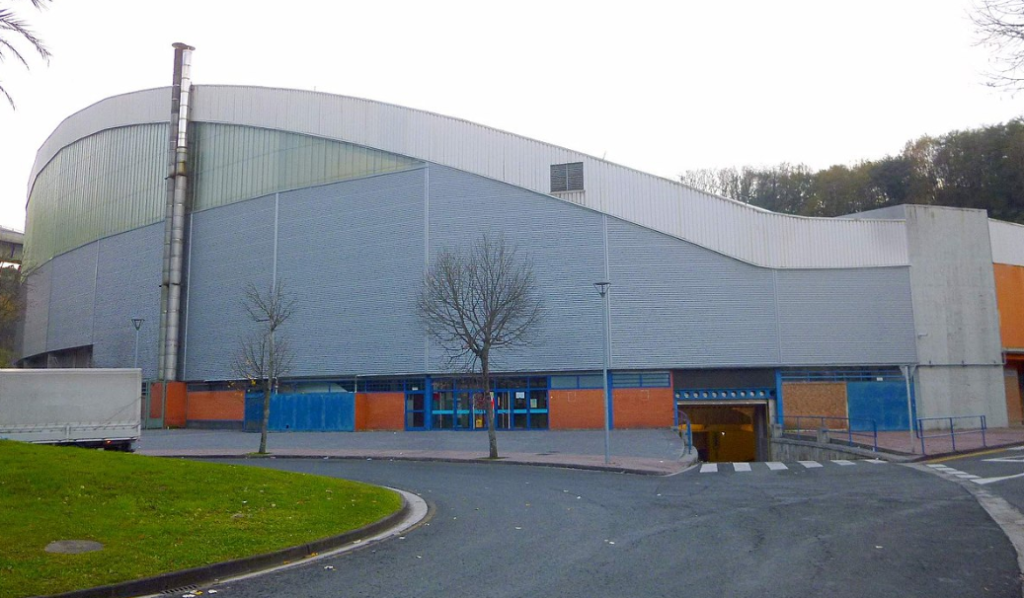 Tour advertising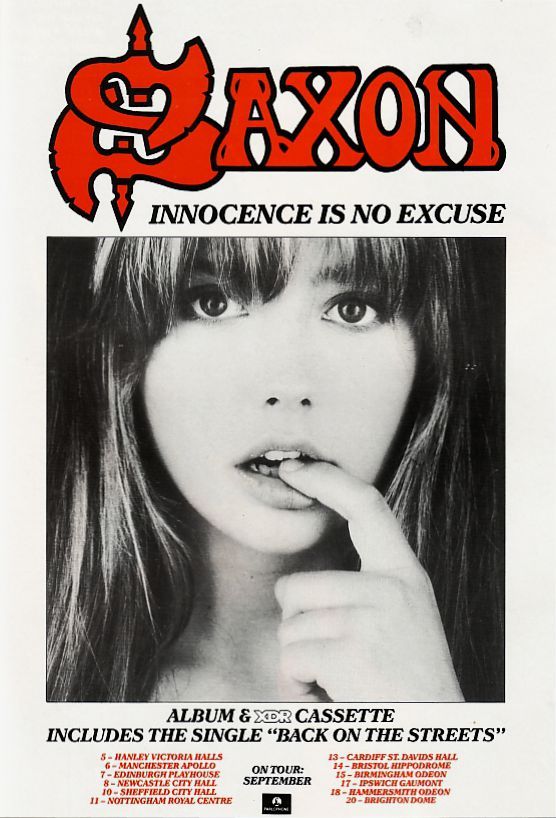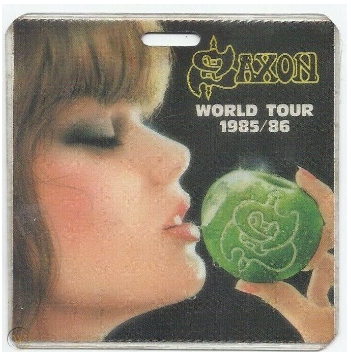 1985 interview
1985, Sep 5: Victoria Hall, Hanley, England, UK (with Pretty Maids)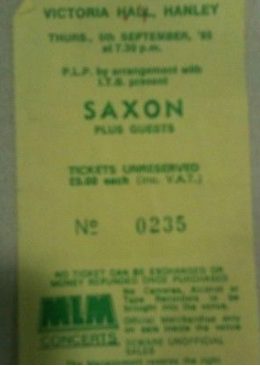 Set list
Unknown, set list wanted
Venue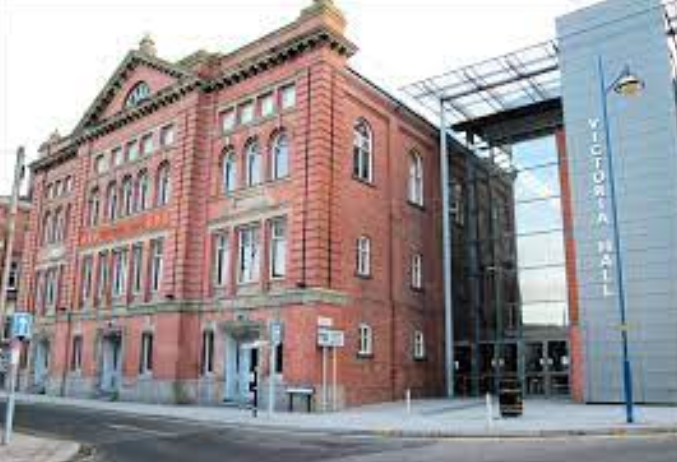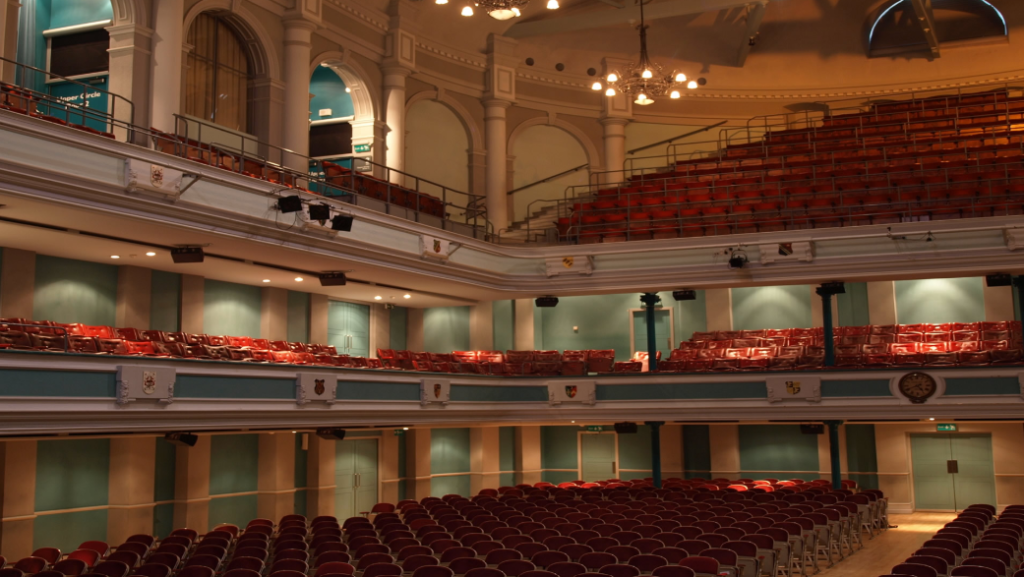 1985, Sep 6: Manchester Apollo in Manchester, England, UK (with Pretty Maids)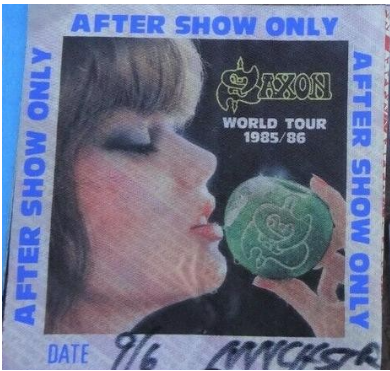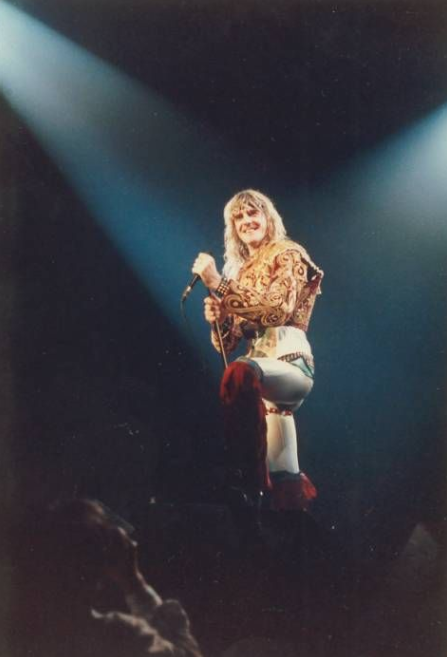 Set list
Gonna Shout
This Town Rocks
Back on the Streets
Dallas 1 PM
Everybody Up
Devil Rides Out
Power and the Glory
Broken Heroes
Give It Everything You've Got
And the Bands Played On
Princess of the Night
Crusader
Call of the Wild
Wheels of Steel
Rockin' Again
747 (Strangers in the Night)
Rock 'n' Roll Gypsy
Heavy Metal Thunder / Stand Up and Be Counted / Taking Your Chances / Warrior / Heavy Metal Thunder
Venue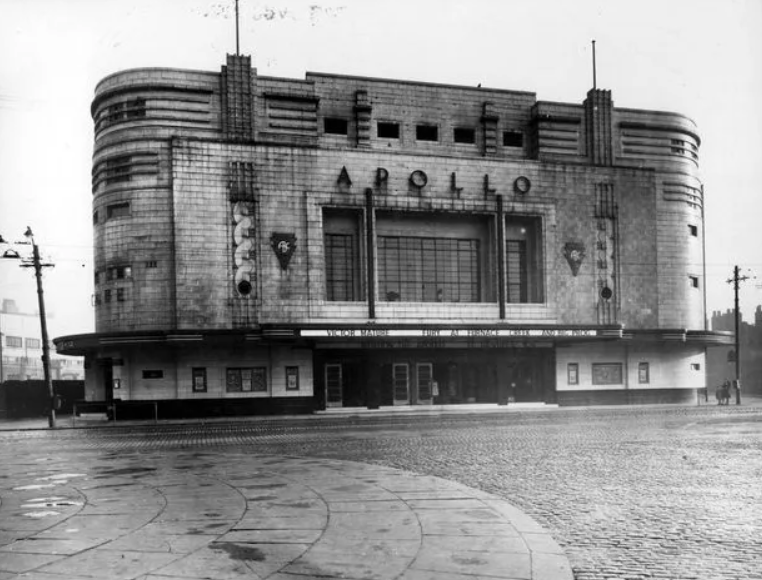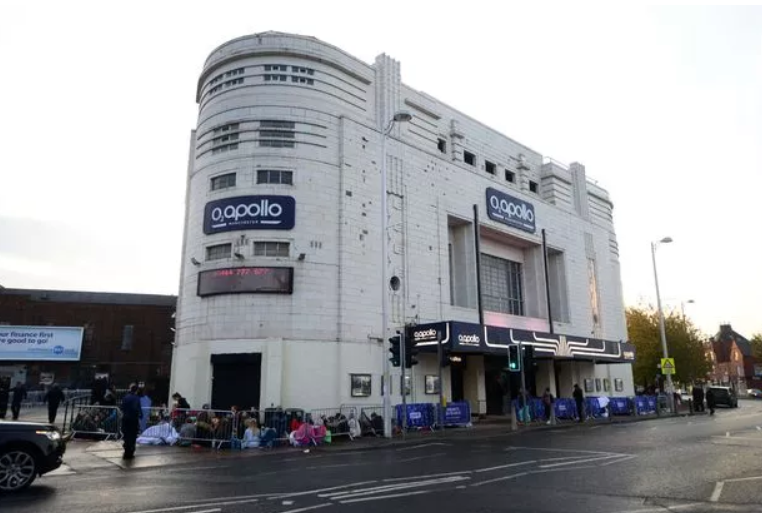 1985, Sep 7: Edinburgh Playhouse in Edinburgh, Scotland, UK (with Pretty Maids)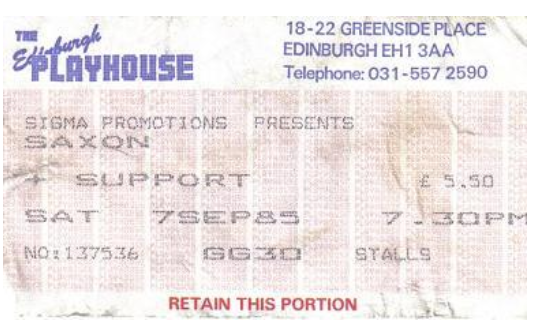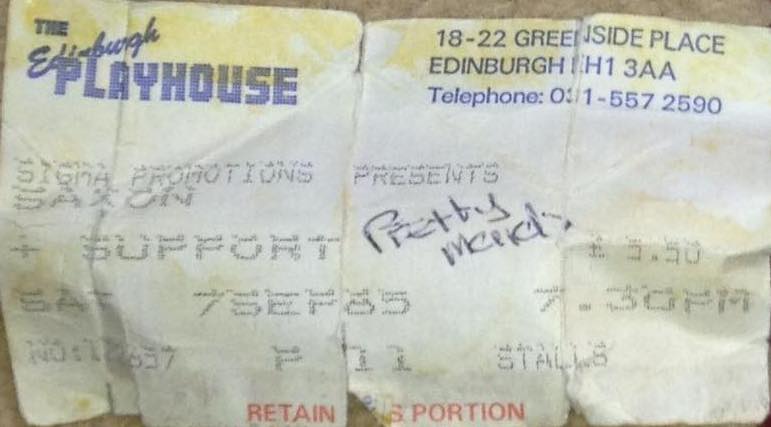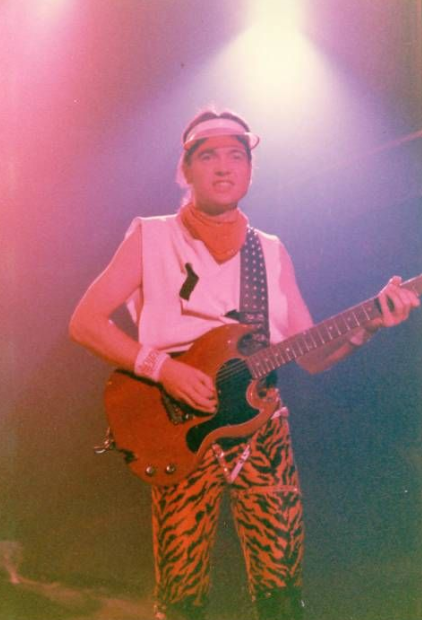 Set list
Unknown, set list wanted
Venue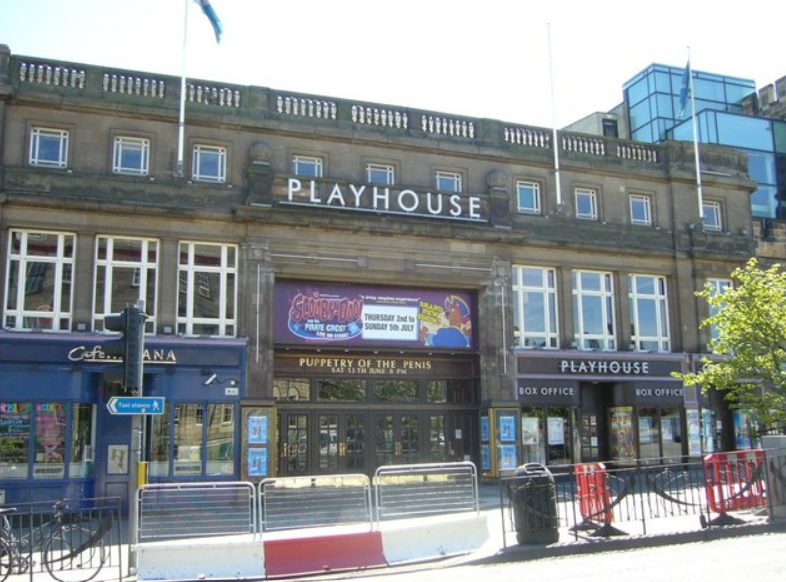 1985, Sep 8: Newcastle City Hall in Newcastle, England, UK (with Pretty Maids)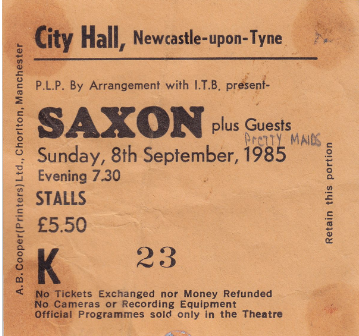 Set list
Gonna Shout
This Town Rocks
Back on the Streets
Devil Rides Out
Rockin' Again
Power and the Glory
Raise Some Hell
Call of the Wild
And the Bands Played On
Give It Everything You've Got (Inc. Drum Solo)
Rock 'n' Roll Gypsy
Broken Heroes
Princess of the Night
Crusader
Everybody Up
Wheels of Steel
Encore
Intro (rock 'n' roll again ?)
Encore 2
747 (Strangers in the Night)
Strong Arm of the Law
Heavy Metal Thunder / Stand Up and Be Counted / Taking Your Chances / Warrior / Heavy Metal Thunder
1985, Sep 10: Sheffield City Hall in Sheffield, England, UK (with Pretty Maids)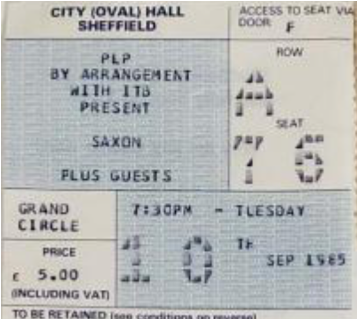 Set list
Unknown, set list wanted
1985 Interview
1985, Sep 11: Royal Court Centre in Nottingham, England, UK (with Pretty Maids)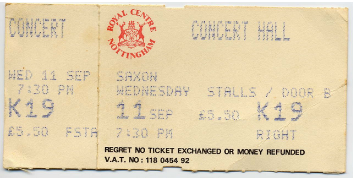 Set list
Intro
Gonna Shout
This Town Rocks
Back on the Streets
Dallas 1 PM
Devil Rides Out
Power and the Glory
Broken Heroes
Give It Everything You've Got
Drum Solo
And the Bands Played On
Crusader
Princess of the Night
Call of the Wild
Wheels of Steel
Encore
Rockin' Again
747 (Strangers in the Night)
Encore 2
Rock 'n' Roll Gypsy
Heavy Metal Thunder / Stand Up and Be Counted / Taking Your Chances / Warrior / Heavy Metal Thunder
Recordings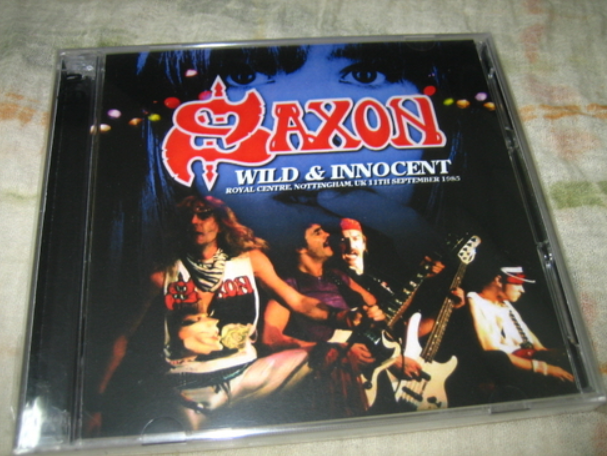 1985, Sep 13: St David's Hall in Cardiff, Wales, UK (with Pretty Maids)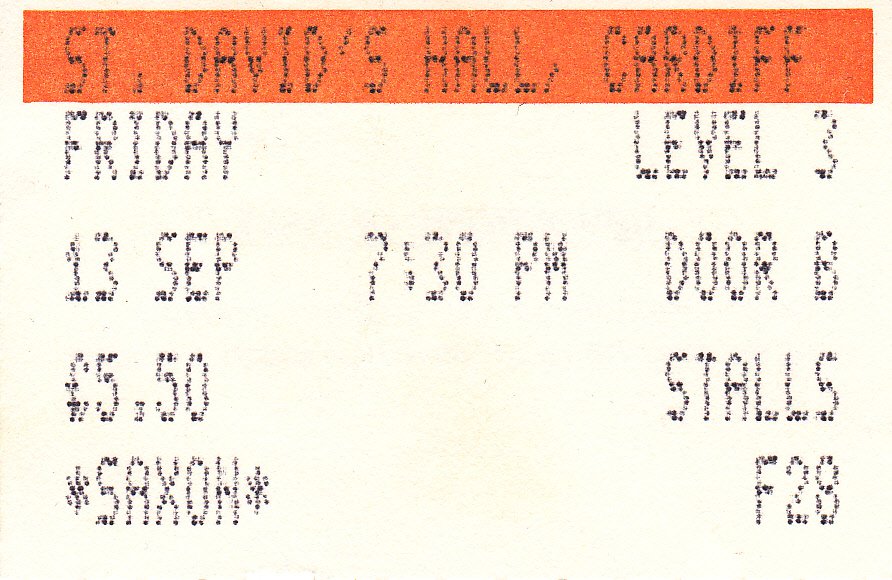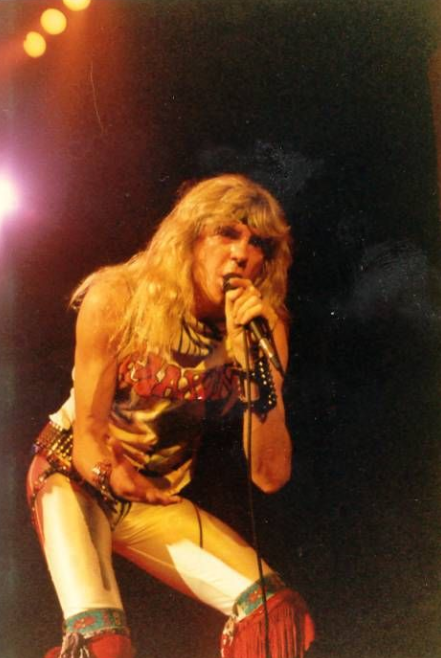 Set list
Unknown, set list wanted
1985, Sep 14: Bristol Hippodrome in Bristol, England, UK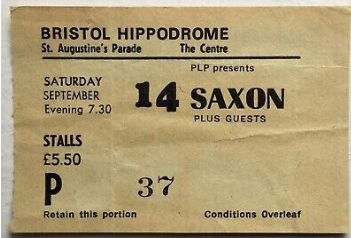 Set list
Unknown, set list wanted
1985, Sep 15: Birmingham Odeon in Birmingham, England, UK (with Pretty Maids)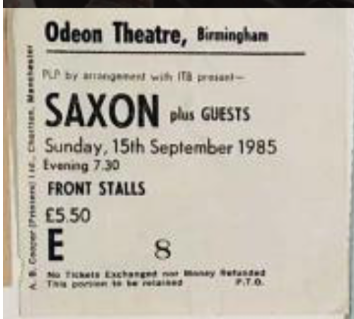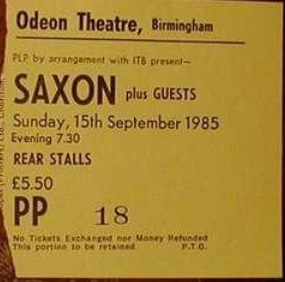 Set list
Unknown, set list wanted
1985, Sep 16: Oxford, England, UK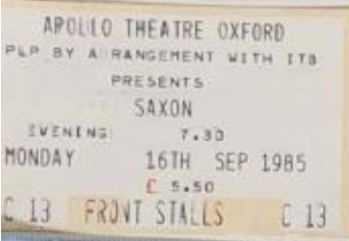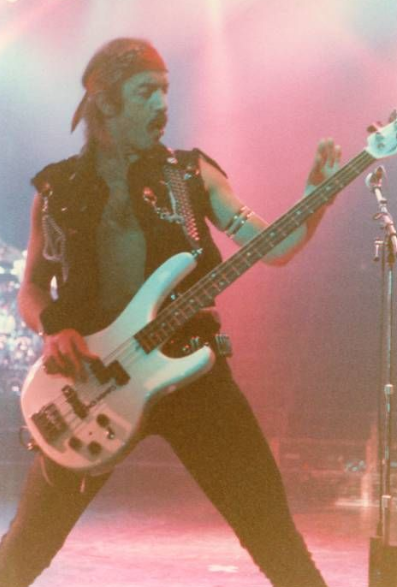 Set list
Unknown, set list wanted
1985, Sep 17: Gaumont Theatre in Ipswich, England, UK (with Pretty Maids)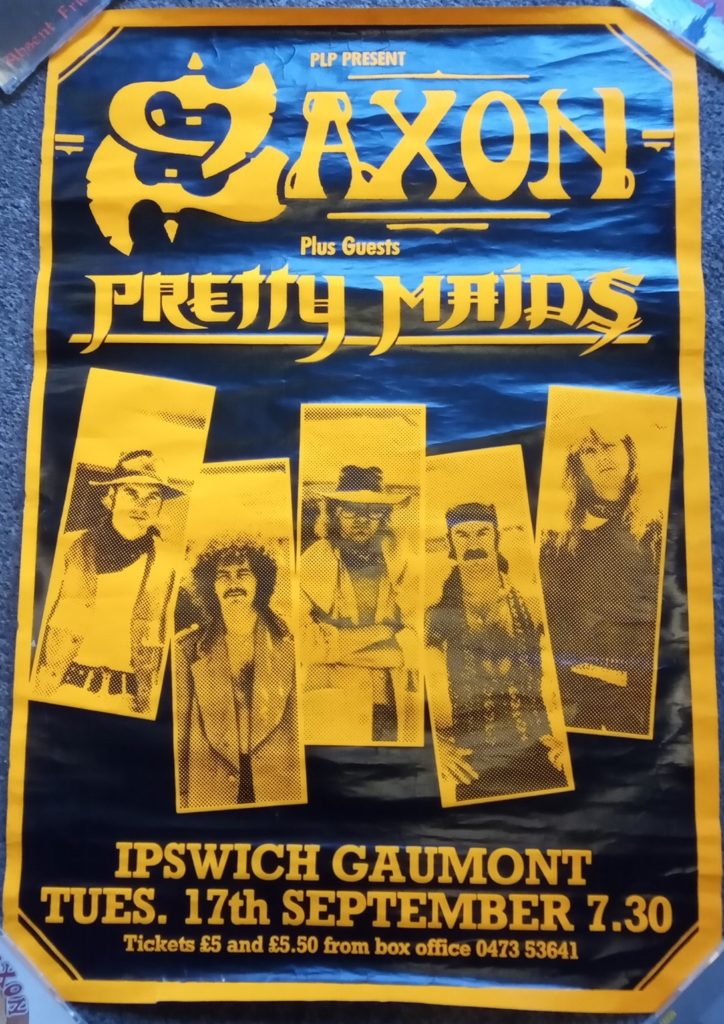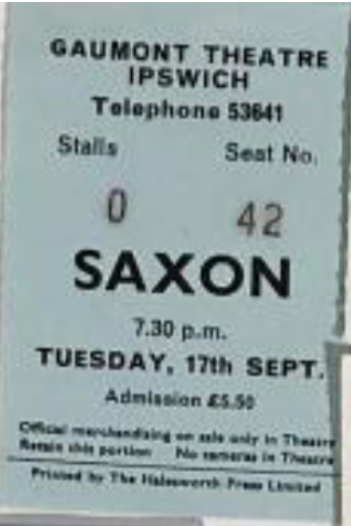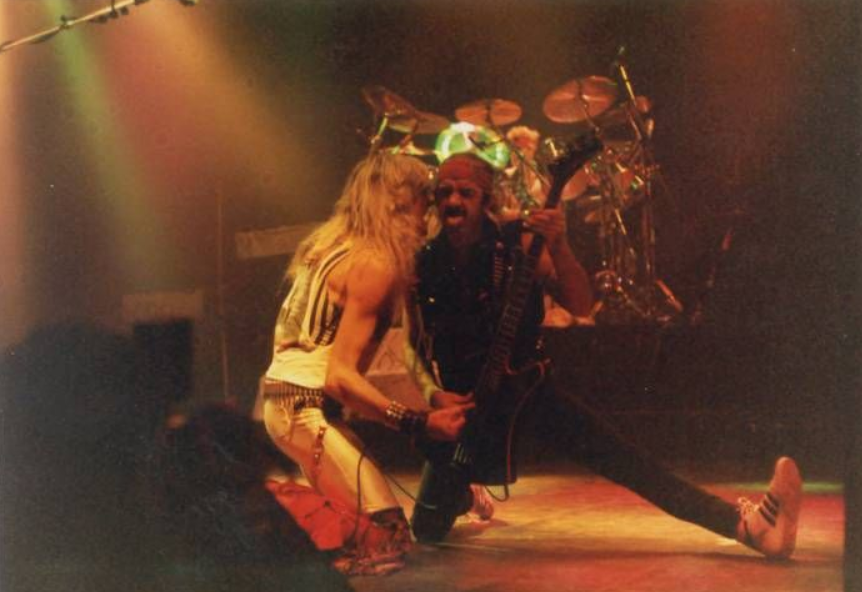 Set list
Unknown, set list wanted
1985, Sep 18: Hammersmith Odeon in London, England, UK (with Pretty Maids)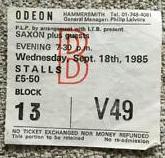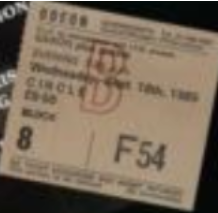 Set list
Back on the Streets
Dallas 1 PM
Devil Rides Out
Power and the Glory
Broken Heroes
And the Bands Played On
Crusader
Princess of the Night
Wheels of Steel
Rockin' Again
Strong Arm of the Law
747 (Strangers in the Night)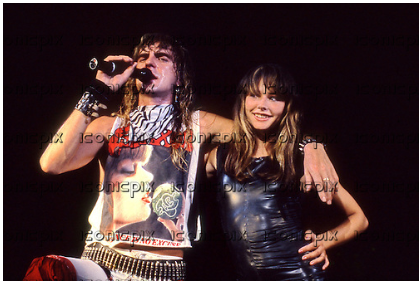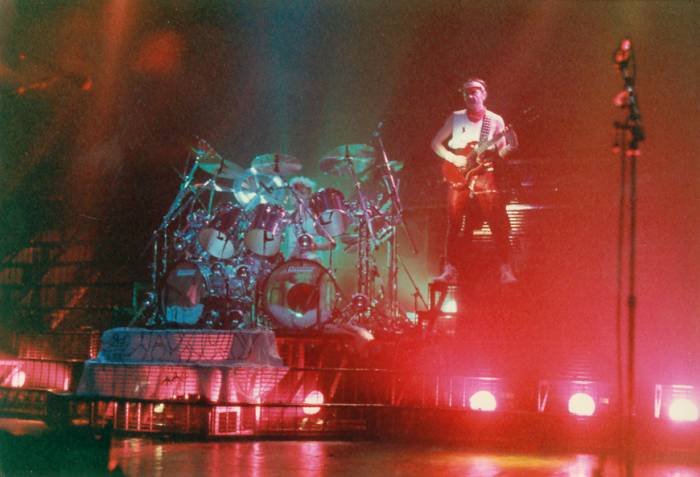 Recordings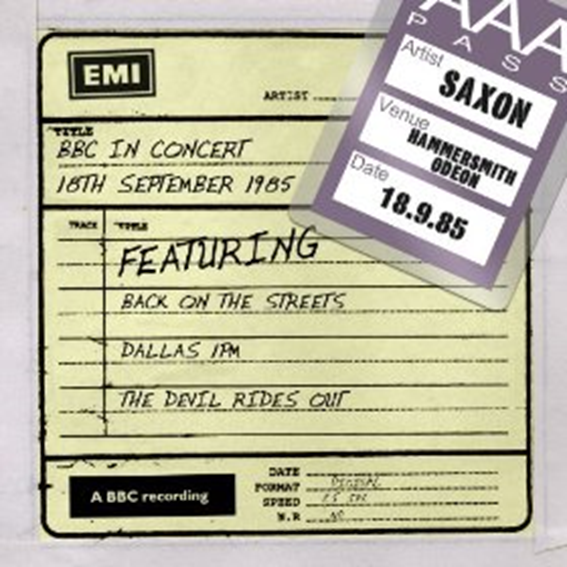 1985, Sep 19: De Monfort Hall, Leicester England, UK (with Pretty Maids)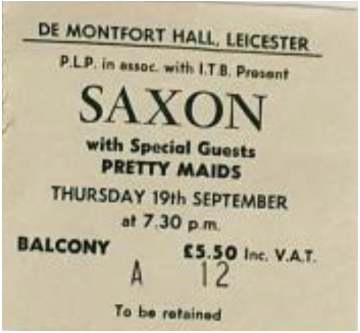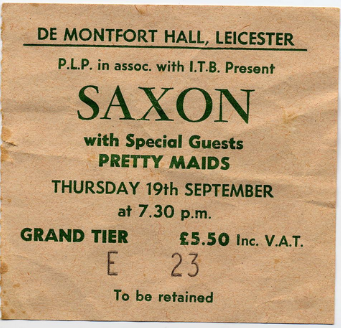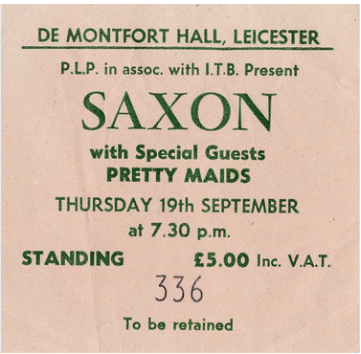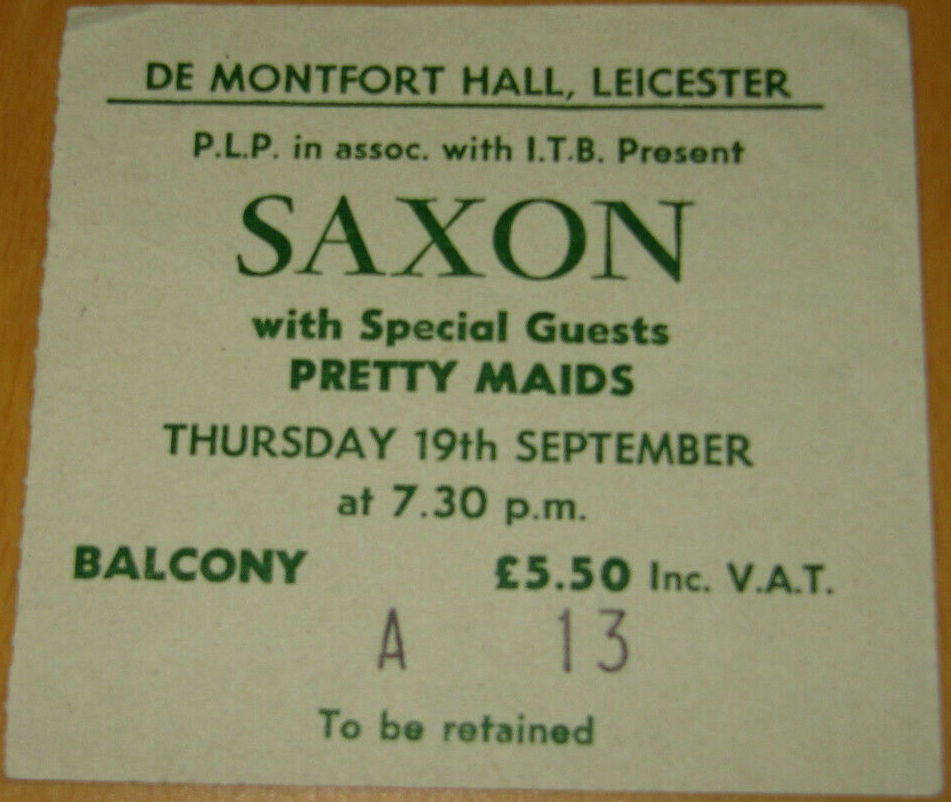 Set list
Back on the Streets
Dallas 1 PM
Devil Rides Out
Power and the Glory
Broken Heroes
And the Bands Played On
Crusader
Princess of the Night
Wheels of Steel
Rockin' Again
Strong Arm of the Law
747 (Strangers in the Night)
Recordings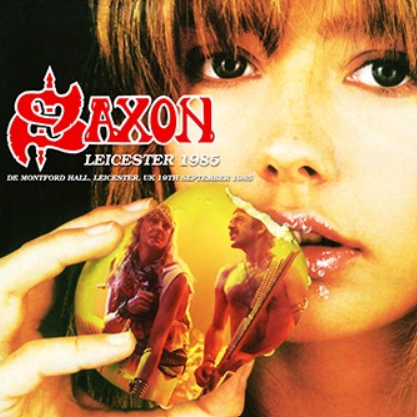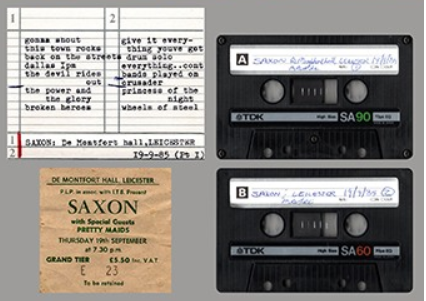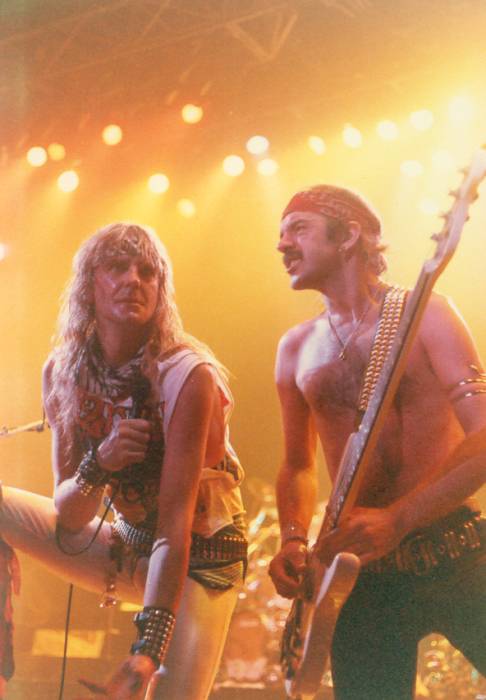 1985, Sep 20: Brighton Dome in Brighton, England, UK
Set list
Gonna Shout
This Town Rocks
Back on the Streets
Dallas 1 PM
Devil Rides Out
Power and the Glory
Broken Heroes
Give It Everything You've Got
And the Bands Played On
Crusader
Princess of the Night
Wheels of Steel
Rockin' Again
747 (Strangers in the Night)
Heavy Metal Thunder / Stand Up and Be Counted / Taking Your Chances / Warrior / Heavy Metal Thunder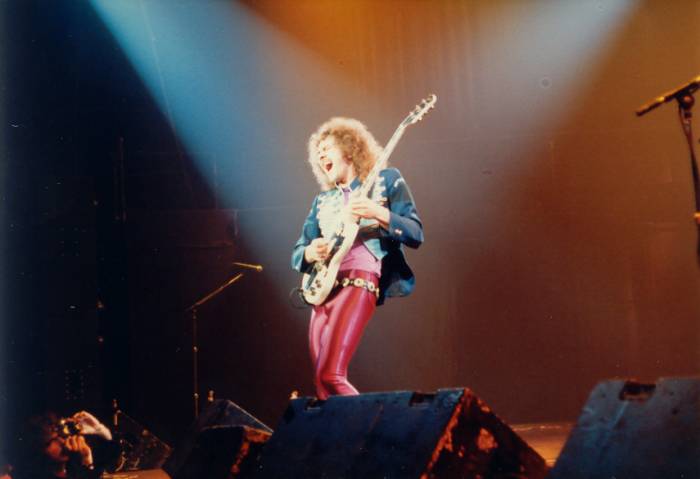 1985, Sep 23: Bourse Du Travail, Lyon France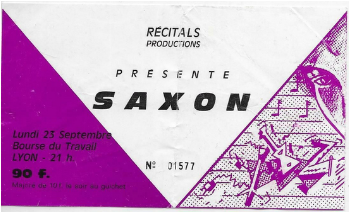 Set list
Unknown, set list wanted
1985, Sep 28: Teatro Tenda in Rome, Lazio, Italy
Set list
Gonna Shout
1985, Sep 30: PalaRuffini, Turin Italy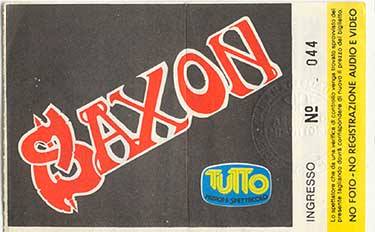 Set list
Gonna Shout
This Town Rocks
Devil Rides Out
Power and the Glory
Broken Heroes
Crusador
Strong Arm of the Law
Guitar solo
Princess of the Night
Drum solo
Back on the Streets
Wheels of Steel
Heavy Metal Thunder / Stand Up and Be Counted / Taking Your Chances / Warrior / Heavy Metal Thunder
1985, Oct 1: Teatro Tenda Lampugnano, Milan Italy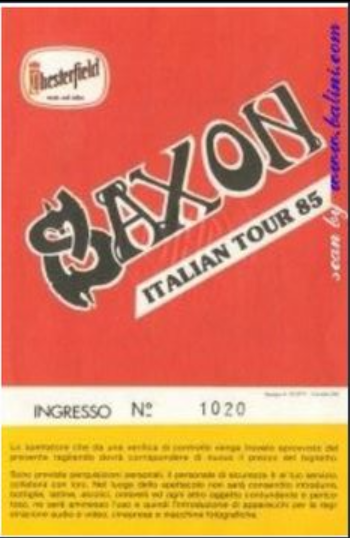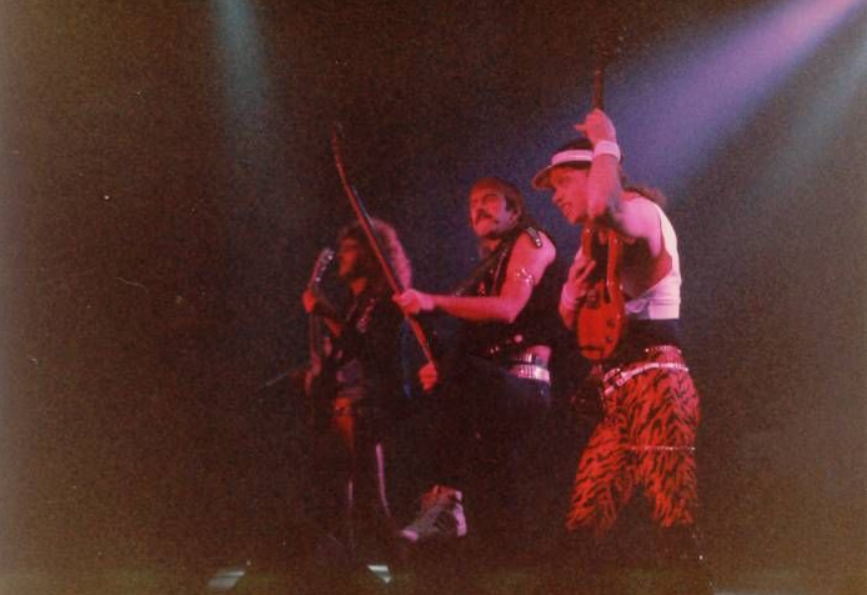 Set list
Unknown, set list wanted
1985, Oct 3: Palasport Primo Carnera, Udine Italy
Set list
Unknown, set list wanted
1985, Oct 4: Palasport San Lazzaro, Padua Italy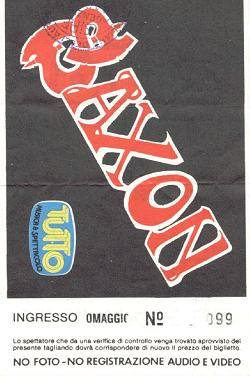 Set list
Unknown, set list wanted
1985, Oct 5: Palazo del Ghiaccio, Bolzano Italy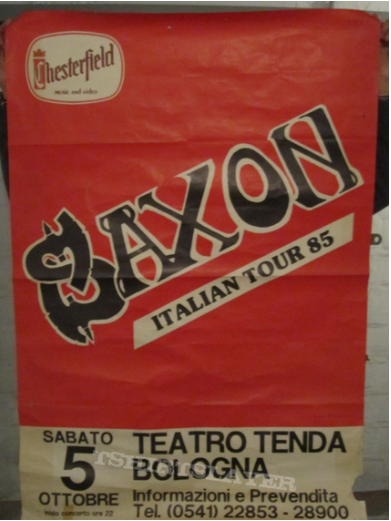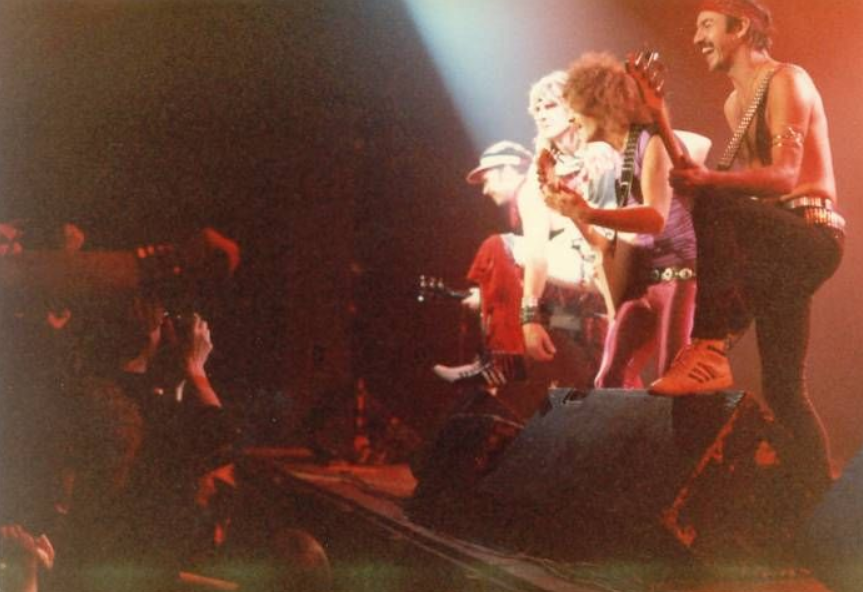 Set list
Unknown, set list wanted
1985, Oct 6: Circus Krone, Munich Germany
Set list
Unknown, set list wanted
1985, Oct 8: Hemerleinhalle, Neunkiriche Germany
Set list
Unknown, set list wanted
1985, Oct 9: Westfalenhalle, Dortmund Germany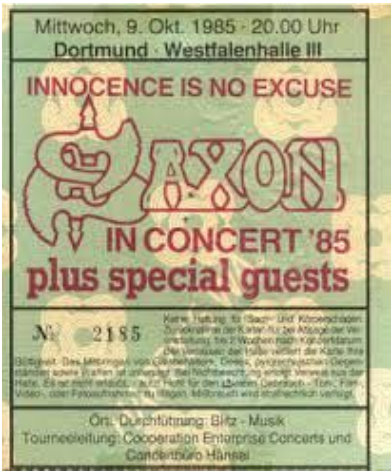 Set list
Unknown, set list wanted
1985, Oct 10: Sporthalle, Boblingen Germany (with Pretty Maids)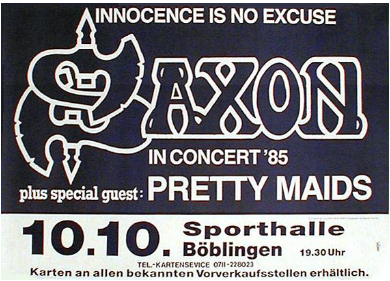 Set list
Unknown, set list wanted
1985, Oct 11: Le Zenith, Paris France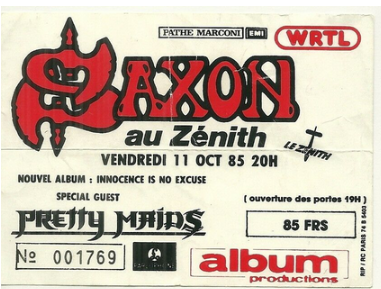 Set list
See FM
1985, Oct 12: Vorst National, Brussel Belgium (with Pretty Maids)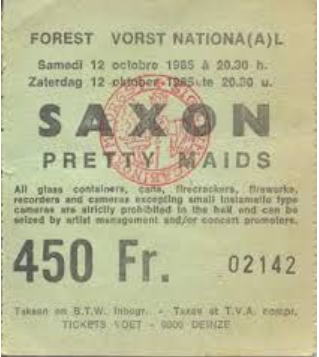 Set list
See FM
Interview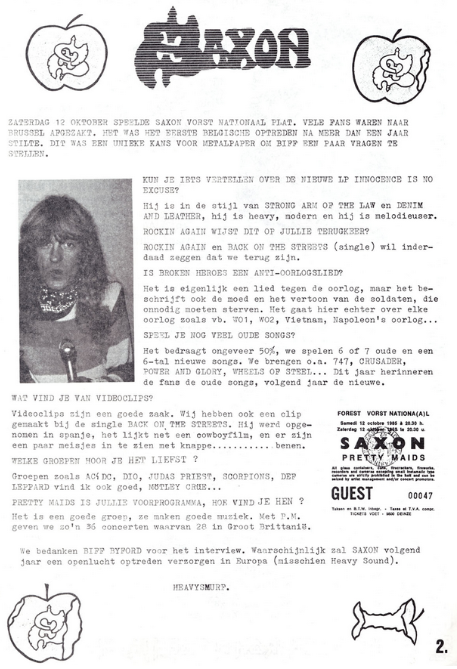 1985, Oct 13: Ijsselhal, Zwolle Netherlands (with Pretty Maids)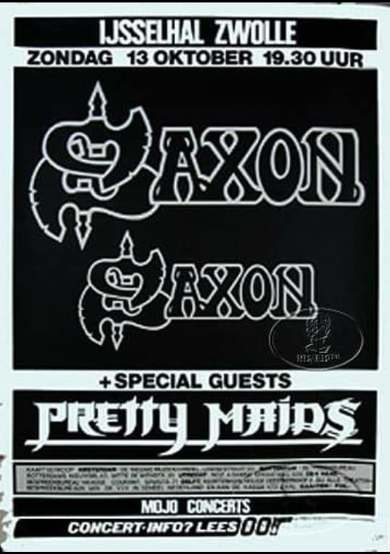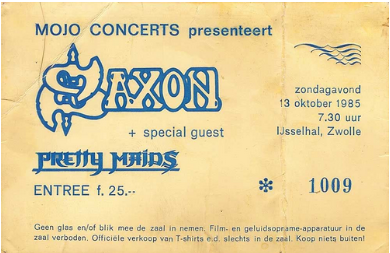 Set list
1985, Oct 14: Musensaal im Rosengarten, Mannheim Germany (with Pretty Maids)
Set list
Gonna Shout
This Town Rocks
Dallas 1 PM
Devil Rides Out
Power and the Glory
Broken Heroes
Crusader
Strong Arm of the Law
Princess of the Night
Drum Solo
Back on the Streets
Wheels of Steel
Call of the Wild
Heavy Metal Thunder / Stand Up and Be Counted / Taking Your Chances / Warrior / Heavy Metal Thunder
Rock 'n' Roll Gypsy
1985, Oct 15: Stadthalle, Offenbach Germany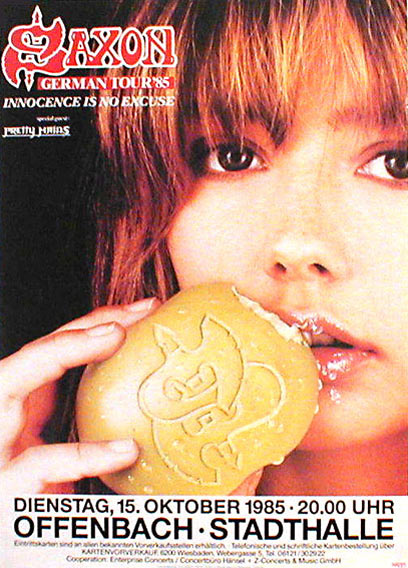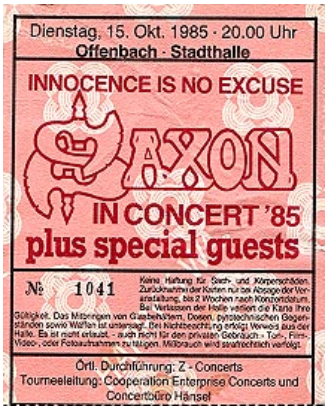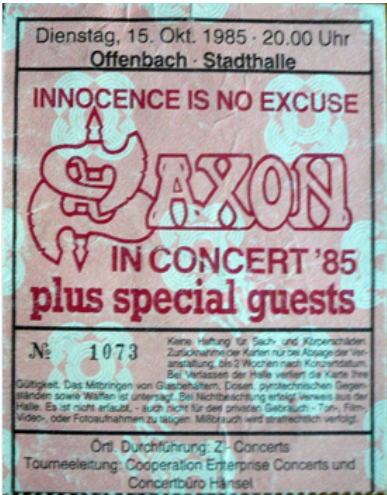 Set list
1985, Oct 17: Olympen in Lund, Sweden (with Pretty Maids)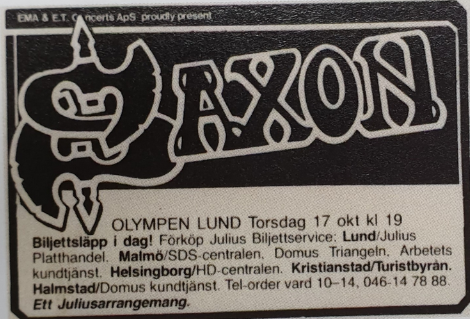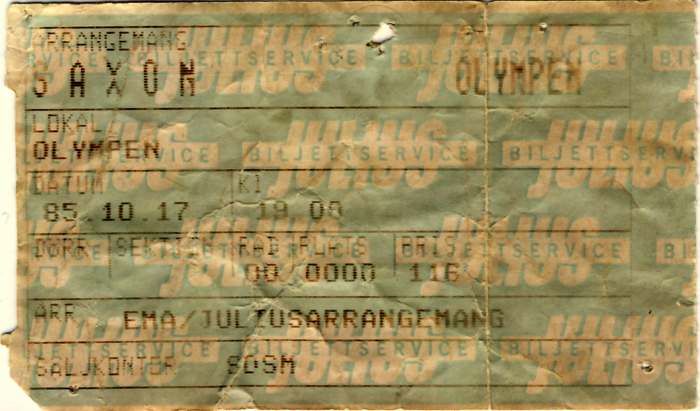 Set list
Gonna Shout
This Town Rocks
Dallas 1 PM
Devil Rides Out
Power and the Glory
Broken Heroes
Crusader
Strong Arm of the Law
Princess of the Night
Drum Solo (Nigel Glockler)
Back on the Streets
Wheels of Steel
Call of the Wild
Heavy Metal Thunder / Stand Up and Be Counted / Taking Your Chances / Warrior / Heavy Metal Thunder
Encore
Rock 'n' Roll Gypsy
747 (Strangers in the Night)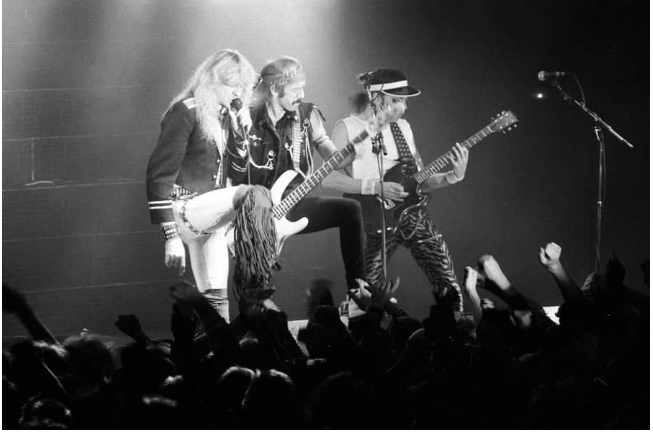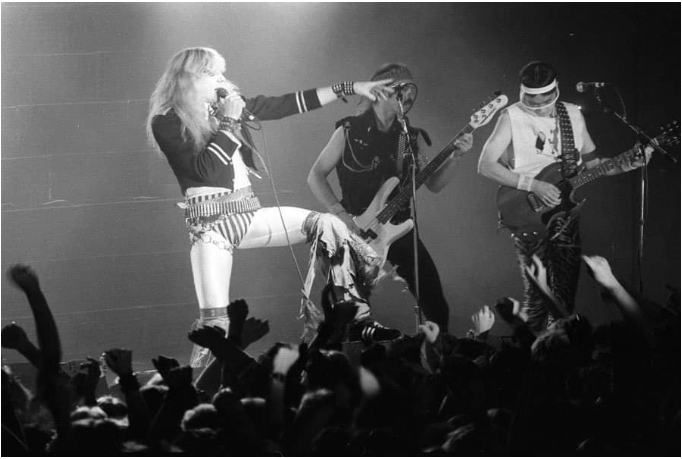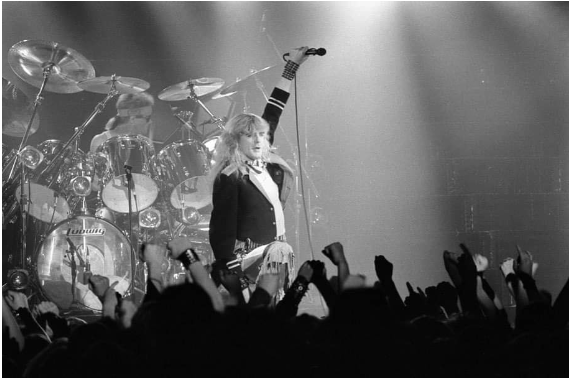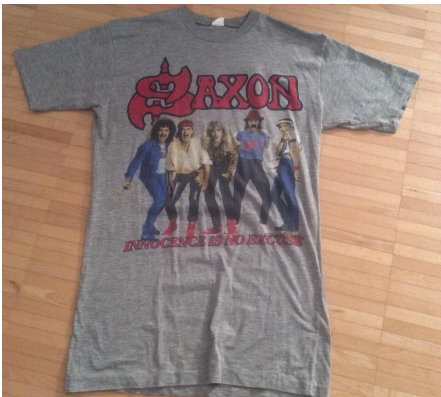 Recordings
Media: 2 CDs
Recording type: Audience
Audio format: Lossless
Total running time: 93′
Audio quality: C
1985, Oct 18: Johanneshov Isstadion in Stockholm, Sweden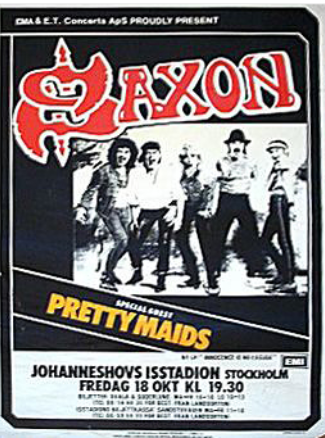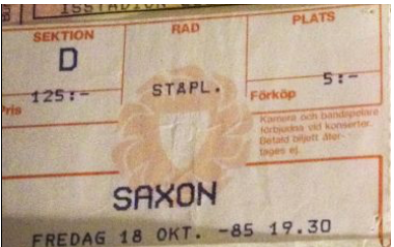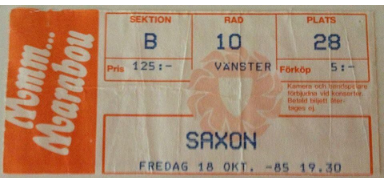 Set list
Intro
Gonna Shout
This Town Rocks
Dallas 1 PM
Devil Rides Out
Power and the Glory
Broken Heroes
Crusader
Strong Arm of the Law
Guitar Solo
Princess of the Night
Drum Solo (Nigel Glocker)
Back on the Streets
Wheels of Steel
Call of the Wild
Heavy Metal Thunder / Stand Up and Be Counted / Taking Your Chances / Warrior / Heavy Metal Thunder
Rock 'n' Roll Gypsy
747 (Strangers in the Night)
Rockin' Again
Recordings
Media: 2 CDs
Recording type: Audience
Audio format: Lossless
Total running time: 106′
Audio quality: B
1985, Oct 19: Scandinavium in Gothenburg, Sweden (with Pretty Maids)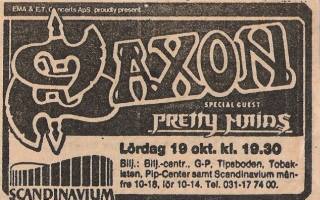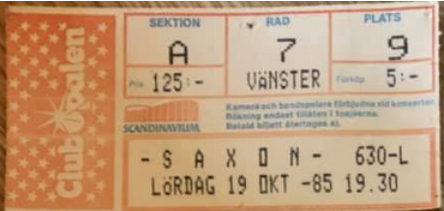 Set list
Intro
Gonna Shout
This Town Rocks
Dallas 1 PM
Devil Rides Out
Power and the Glory
Broken Heroes
Crusader
Strong Arm of the Law
Guitar Solo
Princess of the Night
Drum Solo
Back on the Streets
Wheels of Steel
Call of the Wild
Heavy Metal Thunder / Stand Up and Be Counted / Taking Your Chances / Warrior / Heavy Metal Thunder
Rock 'n' Roll Gypsy
747 (Strangers in the Night)
Rockin' Again
1985, Oct 20: Vejlby-Risskov Hallen, Risskov, Denmark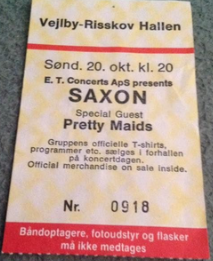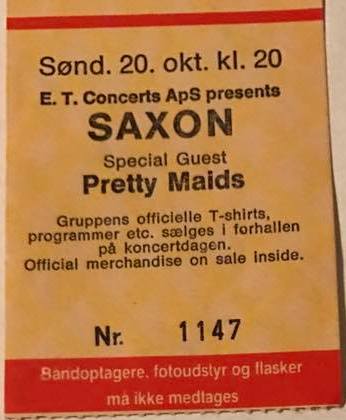 Set list
Unknown, set list wanted
1985, Oct 21: Saga Rockteater, Copenhagen, Denmark
1985, Oct 22: Stadthalle, Bremen, Germany